October 28, 2022, 12:30 AM
Unleashing the Economic Power of Women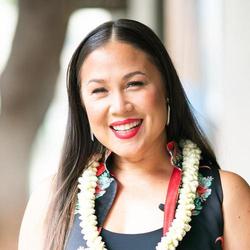 All sessions will be recorded and available for replay on November 1, 2022. Please note, no sessions will have a livestream available.
The impact of women on the economy is vast, contributing an estimated $7 trillion to the nation's GDP each year. Yet women still face income inequality, less representation in the workforce and an undervaluing of unpaid work. Studies have shown that closing gender gaps can lead to a more productive society and greater economic growth. Panelists will discuss the importance of changing policies, attitudes and culture by empowering women so they can meaningfully participate in economic decision-making.
Speakers:
Ashley Lukens, Principal Consultant, Ashley Lukens Consulting Inc.
Darien Siguenza, Program Director, Hawaiʻi FoundHer
Leslie Wilkins, President & CEO, Maui Economic Development Board, Inc.
Meli James, Co-Founder, Mana Up
Moderator: Robbie Dingeman, Editor at Large, Honolulu Magazine
---
Submit your questions here!
You need to be registered as an attendee in order to comment on this talk.
RegisterRegister
Categories covered
Proudly supported by